There are 4 typical types how people react to change. We packaged them as the 4 Ps: Pioneers, Positive, Passives and Perpetrators. Let us have a quick look at those 4 Ps:
Pioneers: These are people who embrace almost any change, regardless of the topic. In fact, if there is no change for some time, they may create their own change – and for instance leave a company.
Positives: This group feels naturally excited about change, while harboring some hesitation. People in that group will generally support change, especially if an aspiring picture about the change result can be drawn, thus eliminating doubts and hesitation.
Passives: For passives on the other hand, the feeling of hesitation is predominant. Since there is still a ray of excitement however, passives can be moved to positives – if they feel well understood and see their concerns being taken into consideration. Else, they are at risk to flip to the perpetrator side.
Perpetrators: As the same implies, people from that group can jeopardize any change project. Not necessarily because of bad will; rather due to their underlying anxiety about change, mixed with the worry that things will turn out worse during and after the change. While perpetrators may need that extra investment of time, care and explanations about the change, this investment can generate great returns once a perpetrator is turned into a passive or even a positive.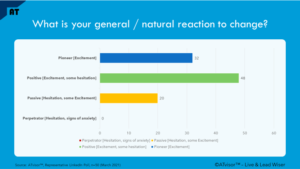 In relation to these 4 typical reactions, we ran a poll on LinkedIn. Although the background of the participants is quite diverse, a total of 50 voters may not qualify for a fully representative overview. However, the overall outcome is quite in line with other studies we came across, claiming that 70% to 85% of people show a certain degree of resistance toward change.
In our survey, it is great to see that nobody seems to experience anxiety toward change. While 32% of the participants are embracing change, 68% feel hesitation to a certain degree. Although we all have a typical reaction to change, it is important to understand that our reaction type may change based on the type of change.
What is your typical reaction to change? What is your reaction to the change you are experiencing right now? And, do you know the change reaction of the people around you – especially for those who you are leading? Happy to be of help on jour change journey.
If you want to know more about Mastering Change, check our online leadership course "Unfold the Serene Leader in You", which covers a significant segment on Leading Change.
As Peter Senge said, "People don't resist change; they resist being changed". In that sense, make every change your own – and help others to own their change! Read more here on some Simple Change Principles.
Comment, like and share this post on LinkedIn.
---
© ATvisor™; Picture Source: ATvisor™