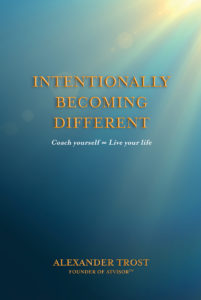 Would you like to become the person you always wanted to be and fulfil your true potential?
Sign up for out Integrative Coaching Journey, supported by the Self-Coaching Book "Intentionally Becoming Different", authored by our Founder Alexander Trost.
Intentionally Becoming Different is an engaging self-development guide to "unfolding your true self." Using a self-coaching approach, this unique self-help book serves as a virtual coach, setting the reader off on an exciting journey of self-reflection, self-discovery, and self-improvement. Alexander Trost blends life lessons with relevant literature as well as research insights. Every chapter concludes with a series of questions and exercises for the practical application of the theory shared.
"Alexander Trost's book is a must read for those who choose to be the master of their fate. Wisely carved in wisdom, knowledge and experience, Trost leads us into the realm of mindfulness, effective communication, an understanding of our emotions and a life with purpose. He guides us with clarity into becoming different in order to achieve self-esteem and peak performance in leading a full, fruitful life. A mind changer." – Lenny Ravich, Author of "Everlasting Optimism" and Co-Founder of Deliveringdelight.com
About the Book
Intentionally becoming different is not about just being different for the sake of sticking out from the crowd or ditching some old habits. Intentionally becoming different is about gaining clarity about yourself and unleashing a lasting transformation of creating a better version of yourself. Intentionally becoming different is also not about best practices which have helped other people to become successful. Best practice sharing is not the silver bullet for getting best results. New things emerge by looking at things differently. Intentionally becoming different is about looking at yourself from a different perspective by asking questions you may have never asked yourself. It is about finding out what works best for you by intentionally changing your underlying mindsets as well as your related practices and behaviors. Find the I in your LIFE.
"This book is your ticket for an engaging coaching journey of more than half a dozen virtual coaching sessions, guided by carefully crafted models, frameworks and insightful questions."
Purchasing Options
See reviews and choose your preferred purchasing platform on Goodreads. Since this is a workbook with space for notes, we suggest the paperback/hardcover version.
Get an autographed copy of our self-coaching book and/or discounted e-coaching directly from the author at our Academy of ATvisor™.
Check our 5-Star rating on Reedsy Discovery and read a sneak preview of the first chapter. Read further book reviews by Review Tales, N.N. Light's Book Heaven and Proof Positive.
"It feels as if Alexander Trost wrote a book just for me and titled it: 'Intentionally Becoming Different'. Then I realized it's for everyone who needs a road map for both discovering and living their purpose. This masterpiece is a comprehensive guide for filling your life with greater deliberation and intention. Dive in like I did, and you'll never be the same." – Scott Jeffrey Miller, Amazon and Wall Street Journal Bestselling Author of "Management Mess to Leadership Success" and "Everyone Deserves A Great Manager", Inc.com columnist and host of FranklinCovey's On Leadership with Scott Miller podcast
Resonances
"It's a book for people who do not believe in living a life by default but who want to live a life by design. Warning: The 'wisdom per square-inch count' is extremely high in this self-help book." – Andy S.
"I am happy to say the book has been an amazing journey. Certainly need to revisit the book." – James N.
"This book is so good, you may not need a coach anymore." – Sandra T.
"I am intensely working with this book since almost two weeks. Something started within my mind. Somebody called this book as a must read in 2020. That's definitely true. I already bought a second one to make a gift to a very precious friend of mine." – Thomas V.
"It is like reading Plato." – Mavis N.
"Love the I SMILE approach. Applying it to my situation is giving me peace! Lovely book. Thanks for writing it." – Maish N.
Watch the recording of an Interview with Author Alexander Trost on Intentionally Becoming Different.
About the Author
Alexander Trost is a Certified Coach, Change Leader, Facilitator, Trainer and Assessor with a successful track record in Mentoring & Coaching, Consulting, People Development, Change Programs, Leadership and General Management, bringing along profound practical experiences. He authored the sold out book "Management by Models" as well as several articles on Leadership, advocating Serenity and Humanity in Leadership. For more details, kindly refer to his Author Page.
"I am impressed by Alexander Trost's ability to develop others. His EQ and sincerity enable him to quickly establish trust and are the underpinnings of his ability to coach effectively. Alexander himself has been a senior business leader and this experience enables him to relate to the pressures and challenges of his clients, much to the benefit of his readers.." – Dr. Steve Wyatt, Executive Director and Professor (Management & Leadership), University of Bath School of Management
"Alexander Trost is someone I trust – heart, mind, and soul. His knowledge, principles, and wisdom of personal growth capture the essence of being human. And his personal character of quiet confidence, hope, courage, and serenity guides me in becoming the best version of myself to serve others with best intentions."  – Joon Chang, Senior Director Finance, SouthEast Effective Development (SEED) and Human Catalyst, Digital Wise Owl
Make Serenity the true Source of Life Energy and become the Serene Leader© of your own change from within.
Subscribe to our Newsletter to be posted on updates around ATvisor™ and Intentionally Becoming Different.
---