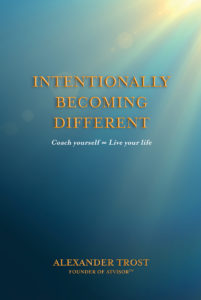 We are proud to announce our self-coaching book
Intentionally Becoming Different
published by
ATvisor™ 
Get it. Gift it. Spread it!
"A must read for those who choose to be the master of their fate." – Lenny Ravich, Author of 'Everlasting Optimism'
"Dive in like I did, and you'll never be the same." – Scott Jeffrey Miller, Amazon and Wall Street Journal Bestselling Author of 'Management Mess to Leadership Success' and 'Everyone Deserves A Great Manager'
Choose ATvisor™ – Live wiser, by intentionally becoming different.
---
© ATvisor™