Are You willing to see The Truth?
𝙊𝙧 𝙞𝙣𝙨𝙞𝙨𝙩𝙞𝙣𝙜 𝙤𝙣 𝙬𝙝𝙖𝙩 𝙮𝙤𝙪 𝙩𝙝𝙞𝙣𝙠 𝙞𝙨 𝙩𝙧𝙪𝙚?
A picture says more than a thousand words. The below graphic is such a picture as it is a perfect representation of what goes on during most of our arguments.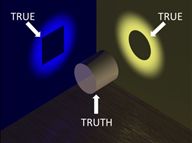 While one person may see the square, another person may insist on seeing a circle.
As the argument gets heated, both persons have a valid point, being true in what they see from their respective perspective.
The Truth however, the cylinder, can only be seen, once we step up into a higher dimension of thinking and perception.
How something appears is always a matter of perspective.
There are two ways to be fooled. One is to believe what isn't true; the other is to refuse to believe what is true.

– Soren Kierkegaard
During every argument, consider that the other person's view might be equally true.
During every argument, never forget that the real Truth might be only accessible from a different, from a higher perspective.
Think of the last argument you had. Did you consider that the other person might be equally right, just in a different light?
Did you try to discover the Truth by making the discussion brighter?
Truth will always be truth, regardless of lack of understanding, disbelief or ignorance.

– W. Clement Stone