Following the idea of having a Growth Mindset, we are always asked to leave our comfort zone. What if exactly this concept hinders us from really growing?
In the comfort zone, we feel not only more comfortable – we also feel stronger. The word "comfort" has its origin in Latin and can be translated as "with strength". So why should we leave that zone and embark into a territory where we feel uncomfortable and weak? How about extending our comfort zone first, before exploring new territories?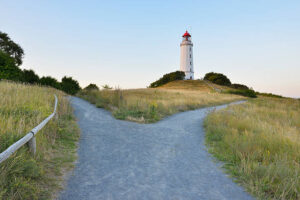 Imagine yourself walking barefoot on the path called "Life". That path is nicely plastered with cobblestones, making your journey soft and smooth. Suddenly, the cobblestone layer ends and the path continues with spiky pebbles. Now, you can either choose to stay in your comfort zone, on the nice cobblestones, without progressing. Or you may leave your comfort zone and progress on a painful journey on spiky pebbles, poking your feet, causing pain and hence distraction. As a 3rd option however, you could first lay more cobblestones in front of you and then progress in comfort and with strength.
In this picture, what could those additional cobblestones be made of? Here are some thoughts:
Increasing your self-confidence
Tapping into your experience and applying it to the new situation
Building on lessons learnt
Seeing your FEAR as False Evidence Assumed Real and changing your mindset about this false assumption
Replacing anxiety with curiosity, seeing worries as a misuse of your imagination
Being resilient toward change with an optimistic attitude and a character deeply rooted in positive values and principles
Imagining how it would feel like once you have reached another milestone on your path called "Life"
Knowing your higher purpose, aka the meaning of your life; maybe the path and its next milestone points into the wrong direction altogether
What other cobblestones come to your mind? Share comments on LinkedIn.
On our life journey, we never really arrive. We take one step at a time. Make sure every step points into the right direction. So before leaving your comfort zone just for the sake of growing, expand your comfort zone into the right direction.
Find more ideas on how to simplify your life in our self-coaching book "Intentionally Becoming Different" and/or in our online course "Unfold the Serene Leader in You" – Now.
Choose ATvisor™ – Live & lead wiser.
---
© ATvisor™; Picture Source: gettyimages.com